The Bands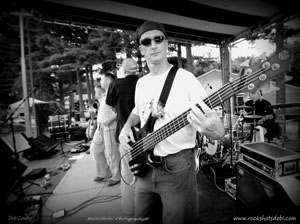 ---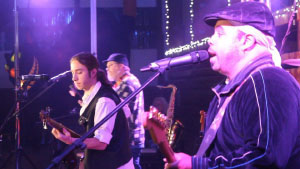 When you speak about the blues in Fort Wayne, the name G-Money inevitably comes up. A fixture in the Fort Wayne music scene for years, G-Money continues to carry the torch for the blues in Fort Wayne, never giving up on his personal crusade to bring the music he loves so much to the people who love good live blues . To hear G tell it, his start in music came innocently enough, but had a lasting effect. "When I was younger, my family would have what we called 'company' over to the house. Basically, family and friends would come over to talk, play records, let the kids run in and out of the house and have a good time.
G-Money began playing the guitar around the age of 14 after hearing Ernie Isley play on The Isley Brothers hit "Who's That Lady." "He's by far the greatest influence on me," Then there's Jimi Hendrix who actually played in The Isley Brothers band for a time.
G-Money played shows in the area for quite some time as a member of the Fabulous Rhythm Kids, a band that also featured Dave Zych on guitar, Mark Stein on bass and Scott Byler on drums. That particular group fell apart a few years ago, so now he plays as G-Money & Fabulous Rhythm. Though the group bears his name, G is quick to point out his bandmates are an extremely talented bunch of musicians themselves. Currently playing drummer Mark Glanemann, bassist Geo Conner and guitarist/saxophonist Stevie Lunn. G-Money and The Fabulous Rhythm can whip out any number of blues, soul, R&B or dance favorites at the drop of a hat. -ReverbNation
---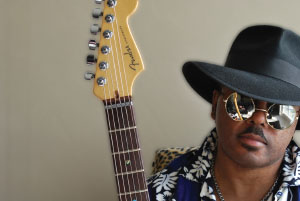 ---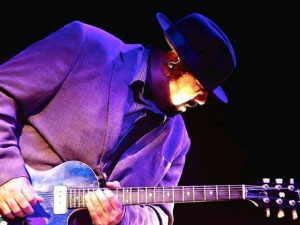 Wayne Baker Brooks is considered one of today's top guitarists who's signature style combines powerful vocals with liquid fire guitar playing that honors his rich blues heritage yet effortlessly expands the boundaries of the genre. Born and raised in Chicago, IL amongst the most prolific blues legends and blues masters in the world, Wayne Baker Brook's blues roots may run deeper and wider than the Great Lakes themselves.
Chicago Blues laid the foundation to Wayne's innovative style. Growing up Brooks was a regular visitor to such historic places as Chess Studios, Checkerboard Lounge, Wisefools, and many other blues landmarks at which he witnessed many live performances by blues masters like Buddy Guy, Jr. Wells, Luther Allison, KoKo Taylor, the great Muddy Waters and his father. The youngest son of blues master Lonnie Brooks - Wayne Brooks was literally born into the blues!
In 2004 Brooks released his debut CD "Mystery", an album that brilliantly draws on blues, rock, soul, funk and beyond. "Mystery" received multiple awards and praise from the music world. Wayne Baker Brooks and his Band continue to play the world over with WBB's signature top shelf brand of guitar playing and a live show that should not be missed.
---